Our Story
"Growing with you means we understand you"
How it all began…
My husband Scott and I established KompleteCare in 2014 in the Northeastern suburbs of Adelaide, South Australia. 
We had previously spent over 20 years working for Disability SA and the Aged and Disability community. Beginning as Support Workers, We worked our way through many different roles gaining further knowledge and experience as we progressed.
KompleteCare has offered us a fantastic opportunity to apply our many years of experience and continue our love for connecting with individuals and learning their life's stories.
Now, our business has expanded remarkably. It has now grown into a family-run business we share with our daughter Laura along with our son-in-law Sam and an ever-growing team.
We currently have four offices in South Australia at Kilburn (Head Office), Modbury, Willaston and Edwardstown as well as recently expanding into Perth, due to our strong family ties over there. with the hope of developing more all over Western Australia in the new future. 
While the growth and success of KompleteCare have been exciting and positive we have never lost sight of where we began and why. Ensuring our clients and their families receive the same standards and personalised services as the day we began.
We started KompleteCare because we are confident that together with our rich industry background, extensive knowledge and experience with the NDIS and our strong family values, our daughter, our staff, my husband and I can offer you something special. A family, A friend and someone to rely on when you need them the most.
It's a real privilege to do what we love every day and to help be responsible for a person's happiness and wellbeing.
KompleteCare will not let you fall through the cracks; we are with you every step of the way.
Linda Sharrock
Director of KompleteCare.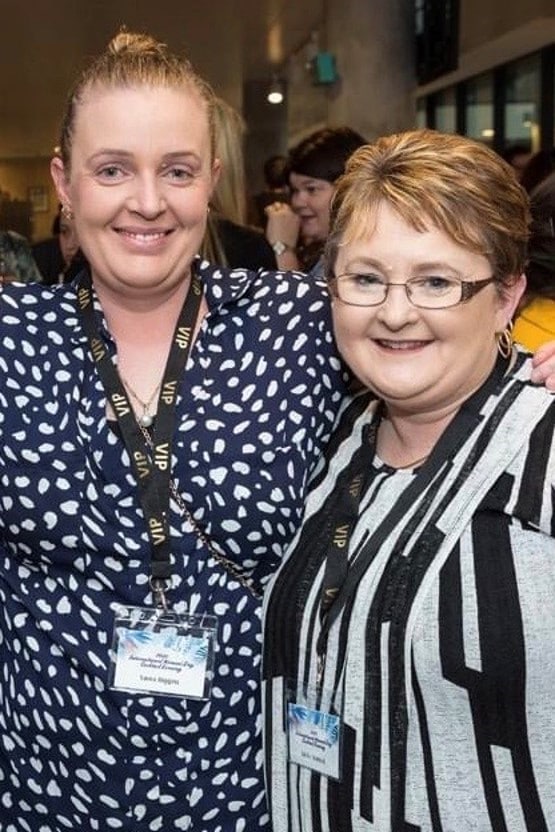 Your story truly becomes our story. It's not just a tag line. We genuinely believe that!
Let's face life's challenges,
TOGETHER.
It is said a company is only as good as its employees and that couldn't be more true at KompleteCare.
All our team members are dedicated, compassionate and professional individuals who enjoy taking care of others. Every team member is an extension of our family and is ingrained with the importance of ensuring everyone they care for is also made to feel like an extension of our family.
We are all here to dedicate our time and priority to one thing… your happiness.
So, who makes up the team at KompleteCare?
Director – Linda Sharrock- Linda is the owner/operator of the business. Her role is managing all operational activities and the staff of KompleteCare.
CEO- Scott Sharrock- As well as being co-owner of the company with his wife Linda, Scott's role oversees business development and works to build positive relationships with our business liaisons.
Finance Manager- Laura Biggins- Laura assists in the operation of the company with her parents Linda and Scott. Her role is to manage all funds for both Home Care Package clients and NDIS clients as well as staff payroll along with team member Jordan.
HR Manager- Ashley Furner- Ashley is in charge of the Human Resource dept for all four offices.
Office Manager- Janet Bammann- Based in the head office, Janet's role is ensuring all our offices run efficiently.
Service Representatives – Geoff Potter & Cody Cameron- Geoff & Cody are usually your first point of contact. They are tasked with answering all new enquiries and helping clients with accessing the NDIS and My Aged Care. They can come out to homes and provide a free consultation for new clients.
Marketing Manager- Lisa Lynch- Lisa's role is to head the marketing and communications team for KompleteCare. Her focus is business development and strategies to reach new clients and connect with the community.
Head of Case Management- Anna Perriam- Anna oversees all our Case Managers and ensures they and our clients are getting all the assistance they need.
Case Manager- Team Leaders- Rashelle Banks, Julianne Gardner, Sam Biggins, Georgina Cuming- The Case Manager team leaders along with a large group of Case Managers are personally assigned clients and are tasked with overseeing their services, the Support Workers and seeing that all their client's needs are met.
Office Administrator- Lesley Smith- Lesley oversees all staff compliances as well as office admin duties along with her assistant Amanda. 
Compliance Manager- Jarod Graham- Jarod works closely with Director Linda, making sure that we provide the highest quality of care and ensure we remain 100% compliant across the board. Jarod along with Tate is also tasked with working with any audits from My Aged Care and the NDIS.
Recruitment Officer- Lyn Cooper- Lyn oversees the coordinating and hosting of all our recruitment events to continually find us new Support Workers all over Adelaide and Perth.
Reception- Sandi Caplikas and Heather Walker- Sandi and Heather are the first friendly voices you will hear when you call our offices. Happy to assist you with all your enquiries and put you through to the right person to support you.
Home Support Workers- Our carefully selected and professionally trained Support Workers are the friendly staff that provide clients with their supports and services at home or within the community.
Head of Rostering- Natalie Verbis- Natalie oversees our scheduling team to ensure all services and supports are efficiently filled for our clients. 
Rostering Team (Schedulers) John Reiman (Team Leader)- Working around the clock, our Rostering team works closely with our Case Managers to find the best Support Worker for each individual and organise all the services and supports for clients.
Clinical Team- Hannah Whelan (Team Leader), Amandeep Kaur, Jan Rzeznik & Christel Agan – Our qualified Registered Nurses provide all the in-home clinical needs for our clients.