Dementia may have taken my Dad but he left me with a purpose.
I'm Carol and I'm a Home Support Worker for KompleteCare.
I wanted to share my story because I think there may be a lot of people out there who are going through what I did and might benefit from my experience.
I've been a Home Support Worker for five years now but before that, I had never really worked outside of the home. While my husband of 35 years was out working, we were lucky enough to be in a position for me to remain at home and raise our 3 beautiful boys. I loved every minute of being a stay at home Mum. Having 3 boys all one year apart in age kept me very busy and on my toes, as you could imagine.
I volunteered at the boys school 3 days a week working in the school canteen and continued to do so even when they all moved on to high school.
Just as they were all graduating, finding work, getting married and moving out, I was starting to feel what they describe as "empty nest syndrome". My boys, now all grown up no longer needed me as much as they once did and I found myself wondering what else I could do with my days.
That's when my sister called. With news that would change everything. Our Dad had been diagnosed with early-onset Dementia. He was only 65.
Although it was a shock to hear it didn't really come as surprise. He had been known to be very forgetful for a few years prior, it had become somewhat of an inside family joke actually. Little did we know at the time it was the early signs of something more sinister.
Dad came to live with my husband and me and I become his full-time carer. I attended all his appointments with him and we did everything we could to try to slow the process of Dementia down. Convinced it would help strengthen his brain, my Dad liked to play Scrabble. He and I would play a game at least twice a day. We became very good at it actually, always liking to challenge each other with new obscure words. It will always be a treasured memory of mine, just he and I, with our cup of coffee and those scrabble pieces.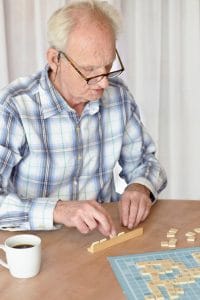 Dad went downhill very quickly around 2 years after his diagnosis and he remained living with us right up until his dying day. Passing away peacefully in his sleep one night.
It wasn't always easy. We had some really difficult days with Dad. Dementia is a cruel disease, for both the patient and their families. Even after raising three very active boys, my time with Dad taught me the patience I never knew I had. Managing those hard days was a challenge, physically and emotionally.
During his last weeks, on a rare good day, Dad and I got talking about what I would do when he had passed. At first, I didn't want to talk about it but Dad insisted I find something for myself once he had gone as I had spent virtually my whole adult life taking care of others. As we sat and chatted I realised I didn't really have any real qualifications or skills to get a job. What could I do? Being a Mum and daughter for twenty plus years doesn't exactly fill a resume.
Then Dad said it. "You're a professional caregiver Carol. Caring for people and helping them in a time of need is one of the noblest jobs a person could have".
That sweet comment stuck with me and when Dad passed I began the process of getting my qualifications to care for people professionally. I feel like I've trained my whole life for it.
In my time at KompleteCare, I have had so many clients and families who are also dealing with Dementia and other struggles and I always think of Dad and what he needed at that time and how difficult it was for us all. The toll it takes on the family, and I try to be there for them the best I can. I feel so much fulfilment at the end of each day like I've made a difference, even if very small to someone's life. It's very rewarding and has given me a real purpose now Dad is gone and the kids are grown.