Edith's story: It's not always about the service but being able to have a chat
By Rebecca St Clair
The confidence gained from getting out and having someone help maintain her home has been essential for Edith.
Edith and her husband Gordon moved to Australia from Scotland in 1980. It was here that they had their first child in 1983. Despite her hatred of the sun, Edith has lived and continues to live a full life in Australia.
"I love Australia, except for the heat… I can't stand it. "I often wonder why I came here because no one explained to me that the heat was going to be 40 odd degrees. Because I was used to 25-26 degrees."
Edith stopped working after her first child was born to become a stay-at-home parent. But it was soon time to get back into the workforce, and Edith and her husband spent time training and looking after a hearing dog. "We used to take him to school and show him around, and he was like the dogs so he could go everywhere. "He went away to a couple in Queensland after two years. "And then we did family daycare for a bit. But then I got sick, and things went totally upside down and things have never been the same."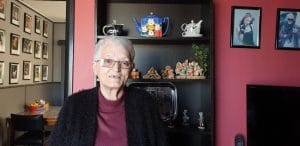 From missing out to going out
Edith had lost confidence with getting out and about on her own but has regained her confidence and independence. "You miss out on a lot of things if you're not able to get out and about. I missed a lot I was scared to go out on my own if I fell, as I was a falls risk. "Now that I have the girls come in to help me, I'm able to go out and about as I feel confident with somebody with me, in case anything happens. I'm confident that the girls are all there for me.
Edith was soon passed information about KompleteCare, which is the first provider she has used.
"I hadn't had anyone else… this is the first group I've been with, and I have no intention of changing. "KompleteCare is a family-owned and operated business that provides in-home and community services to older Australians and those living with disabilities in South Australia.
One of KompleteCare's sales team, Adrian, came out to Edith and helped her get the support she needed and wanted. "I have a lady who comes out, and we go shopping together. I have girls who come take me to my appointment, and they're also a good social ," says Edith. "It's not just a trip to the doctors. When it's finished, sometimes, they take me along the waterfront, and we have a chatter and then come home.
"So, it doesn't always have to be about the appointment. It's just to be with somebody else. "The lass who comes in and cleans for me, she also comes in and has a chatter with me so everything that you get you're able to get people in and have chatter."
Edith says that it is important, for anyone who might find themselves needing a little more help or support to ask for the help. "I would say to people to definitely look into it. It's not just there for anyone special. We all need it. "Why sit in your home when you can get the available help? good help good people, and it makes a difference."
A hand in hand approach to care
KompleteCare offers a unique Case Management service. Which means clients have a single person they can contact about their services, appointment, or issues. Edith says that being able to contact her Case Manager, Danielle, directly is important. "A telephone conversation with many different people is very difficult. So, when you are unsure, you can ask if you can talk to Danielle, or if you can't reach her, can okay things past her.
"To have one person is a definite positive."
A company with heart
KompleteCare is a company with a heart, as all client's hold a special place within our hearts. Edith herself is loved by many of the KompleteCare team, who like to call her "the company grandparent'. Being with KompleteCare means Edith has gained a group of people who will do their best to find the best people and solutions to any problems she faces.
To find out more about KompleteCare, call our friendly team on 8265 5696 or visit our website www.kompletecare.com.au.